Pcd Precision Diamond Tool Cnc Indexable Insert
Main performance indicators of PCD tool materials:
The hardness of 1PCD can reach 8000HV, which is 80~120 times that of cemented carbide;
The thermal conductivity of 2PCD is 700W/mK, which is 1.5-9 times that of cemented carbide, even higher than PCBN and copper. Therefore, the heat transfer of PCD cutter is rapid;
The coefficient of friction of 3PCD is generally only 0.1 to 0.3 (the friction coefficient of cemented carbide is 0.4 to 1), so PCD tools can significantly reduce the cutting force;
The thermal expansion coefficient of 4PCD is only 0.9×10 -6~1.18×10 -6, which is only equivalent to 1/5 of the cemented carbide. Therefore, the PCD tool has small thermal deformation and high processing precision.
The affinity between the 5PCD tool and the non-ferrous and non-metallic materials is very small, and the chips are not easily bonded to the tip of the blade during processing to form a built-up edge.
PCD milling cutter:
Polycrystalline diamond (PCD) cutters are made by welding PCD laminates to carbide or steel cutters. Because the PCD composite sheet combines the high hardness, wear resistance, low friction coefficient and strength of single crystal diamond with the high bending strength of tungsten carbide, the tungsten carbide layer of the composite sheet provides mechanical support for the diamond layer, increases its bending strength, and the cemented carbide layer is easy to weld and makes the fabrication. The finished tool becomes easy.
ItCompared with other Cutting Tool materials, polycrystalline diamond has the following
characteristics:
(1) extremely high hardness and wear resistance;
(2) high thermal conductivity and low thermal expansion coefficient, rapid heat dissipation, low cutting temperature, small thermal deformation;
(3) low friction coefficient, which can reduce the surface roughness.
When using PCD tool to process aluminum alloy, because of the high hardness of diamond, low affinity with metal surface, and the tool front face is polished into a mirror surface, it is not easy to produce chips, processing dimensional stability and surface quality are very good. Using PCD tools to process various specifications of aluminum alloy parts, the tool life can reach tens of thousands to tens of thousands of pieces, especially suitable for large-scale production of automobile and motorcycle parts. PCD tools are also widely used in other non-ferrous metals and non-metallic materials for high-speed machining, widely used in automotive, aerospace, electronics and wood processing and other fields.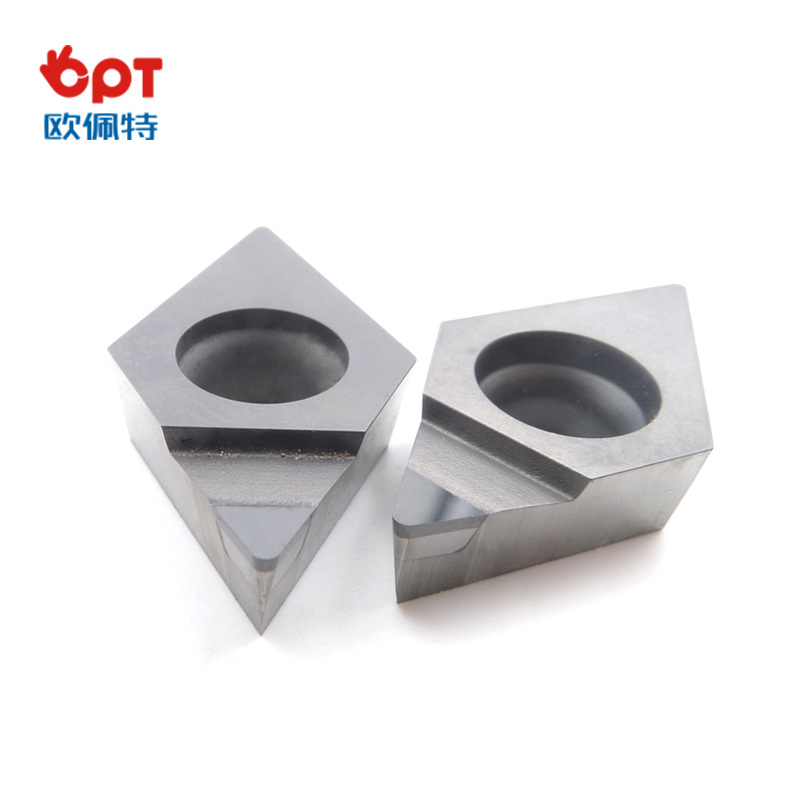 ABOUT US :
We are specialize in manufacturing PCD Diamond Tools and Carbide tools. Our major product inclulde PCD inserts, PCD Reamers, PCD End Mills, PCD Taps, Cabide Inserts,Carbide Drills, Carbide Reams, Taps etc.,
We also offered customized cutting tools per drawings, and provide package according to customer requirements. We manufacture a series range of cutting tools for machining of Cast iron, Aluminium alloy and Non-Ferros metal, it is widely used in all major sectors like Automobiles, Engineering, Aerospace, Aviation and 3C industry. Premium quality of raw material is used in the production and strict examination during processing with advanced equipment, so our client are satisfied with our reliable quality and on-time delivery.
Our best selling of cutting tools include PCD Inserts, PCD End Mill, PCD Ball Nose Mill, PCD Reamer, Carbide Taps, Carbide End Mill, Special Form Cutter and many more. For these years we have been made a large forward in the technologies of manufacturing cutting tools. With high quality on performance and price, our product sells well both on domestic and overseas market. And we will always focus on the quality and best service, to make long business relationship.